Ireland in the early 20th century
Sporting and cultural life in Kerry in the early 20th century
View the photo gallery
Nothing defines Kerry as much as its success in winning All-Ireland football championships. By 1911 Kerry was on its way towards establishing itself as the most successful footballing county in Ireland. Ironically, however, it was a team from the hurling heartlands of north Kerry which was the first to bring All-Ireland glory to the county. The Ballyduff team which won the 1891 All-Ireland hurling final played in their everyday trousers and their bare feet. It was Kerry's only All-Ireland hurling championship and it has long since been smothered by the success of the county footballers.
The spread of gaelic football across Kerry was no uniform matter. GAA clubs were established in different areas in different ways. William Moore Stack, father of Austin Stack, had founded a GAA club in Tralee in 1885. This was a straightforward story of men who were interested in nationalist politics establishing a sporting club, based on nationalist premises. They played their matches at the Tralee sports ground, which had a pavilion and a stand, as well as cycling track laid out around it.
The spread of football to Killorglin was somewhat different. Two teachers who had played gaelic football in Dublin with Erin's Hope, Jack Murphy and Tom Cronin, moved down from Dublin. They quickly helped establish the Laune Rangers as the best gaelic football team in Kerry. James Patrick O'Sullivan had previously been involved in a rugby club in Killorglin, but he captained the Laune Rangers to win Kerry championships in the late 1880s and early 1890s, and was also a renowned athlete. The Laune Rangers won their last Kerrry championship in 1911. His son, Dr. Eamon O'Sullivan, went on to become one of the most successful trainers in the history of gaelic football, winning eight All-Ireland championships between the 1920s and the 1960s.
Kerry won its first All-Ireland football championship in 1903. It spawned a tradition of outstanding footballers, of whom Dick Fitzgerald remains feted as one of the greatest of all. He was the first true superstar of gaelic games, winning five All-Ireland medals, including two as captain in 1913 and 1914. Fitzgerald's fame was confirmed when he wrote the first ever book on gaelic football, How to play gaelic football, which was published in 1914. Fitzgerald would most likely have won six county medals had Kerry played the 1910 All-Ireland Final against Louth. A dispute with the Greath Southern Railway Company had led to Kerry refusing to travel and they handed Louth a walkover. Fitzgerald lived in Killarney, as did fellow Kerry players Jack Myers, Dinny Kissane , Paddy Dillon, Florrie O'Sullivan.
Gaelic football was coming to dominate in Kerry but there was a vibrant and diversified sporting scene. The Listowel Races had been running since 1856 and were extremely popular. There were also race meetings at Tralee. Killarney's race meeting had run for several decades, but, by 1911, had fallen into abeyance. There were, however, several ball alleys in to town, including one at Ball Alley Lane. Edward Griffen, the RMS at the Killarney Mental Hospital, kept greyhounds.
Rugby was played across the county. It had been played in Killarney at least from the 1880s. Star local players included Dr. William O'Sullivan who was capped for Ireland and also captained UCC to the Munster Cup. A second Killarney man to be capped for Ireland was Jerome Guerin, who was capped against France in 1914, before dying in World War I. Other players from the time were Dr. Jerry Goggin, Dr. Pat Carey , District Justice T. G. O'Sullivan, Jack Sewell and Tommy MacGillycuddy.
Cricket was played in parts of the county. The game had been extremely popular in the second half of the nineteenth century, but had declined by 1911. There was a regular calendar of matches, however, not least matches between teams from Tralee and Ardfert. Among those who played the game were Rev. J.J. Macmanaway, M. Beatson, W.J. Girvin, Rev, C. V. Rooke, Bertie Dowling, John Joe O'Sullivan; and amongst the spectators were Mr. Bligh and Lindsey Talbot-Crosbie .
There was a golf course in Killarney at Deer Park, which was frequented by players such as Lord Kenmare, Walter Butler from the Munster and Leinster Bank, Lady Ellen O'Connell, David M. Moriarity, clerk of the crown and son of a local resident magistrate. The club prospered to the point where it even organised an exhibition match between two leading international professionals, Tom Vardon and Sandy Herd.
The culture of Kerry was not simply defined by sport: there was also literature. Fr. Patrick Dineen was at work, collecting and publishing Gaelic poems. The Kerry Archaeological Society was established in 1907, and published an annual journal. Most importantly, An Blascaod Mór was famed for its literature. Memoirs written by Muiris Ó Súilleabháin, Tomás Ó Criomhthainn and Peig Sayers (returned under her married name of Guiheen) provided a lovely insight to life and lore on the island, as well as tracing the demise of the community. Ó Criomhthainn was the pioneering writer on the island. As well as his brilliant autobiography An tOileánach, which detailed his life as a farmer-fisherman, his journal, his journalism and his collections of folklore present a unique, sophisticated body of work.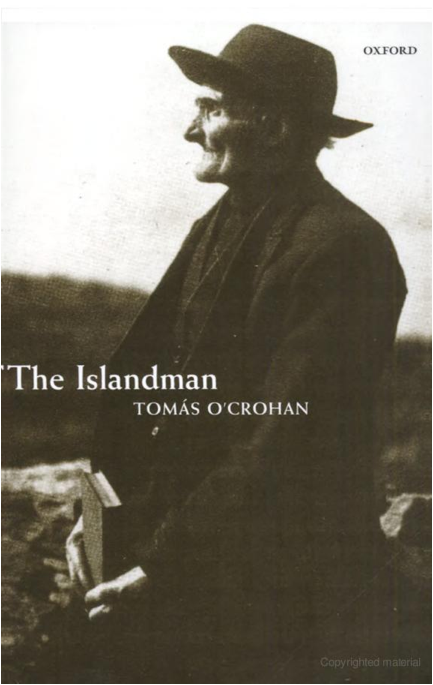 Tomás Ó'Croimthainn
From The Islandman, Oxford 2000
The literary work of the islanders undoubtedly benefitted from the encouragement of the scholar, Robin Flower. Born in Leeds and educated at Oxford University, Flower worked at the British Museum in London, where he catalogued old Irish manuscripts. He had learned Irish and was devoted to the culture of the island. He translated Ó Criomhthainn's autobiography and it was published in English as The Islandman in 1929. He published stories from Peig Sayers in Béaloideas and also published his own books The Great Blasket in 1924 and The Western Island in 1945.
As well as attracting academics, Kerry was also a favoured destination for those who sought to ride horses (John Pierce, a vet in Listowel), to shoot and fish. The River Feale at Listowel was renowned for its excellent fishing, particularly salmon and trout. It was also reported that hunters had bagged woodcock, snipe, mallard and teal around the town, which had two hotels and several dozen public houses (Julia Nolan's public house).
And then there was Tom Crean. Crean is nowhere to be seen in the 1911 census. That year, he had travelled to within 150 miles of the South Pole, with an expedition led by Captain Robert Scott. Scott died on the expedition and Crean later returned to the ice to bury his body. Crean had left a small farm near the village of Annascaul in the Dingle peninsula where he had been reared as one of ten children. He joined the British navy having lied about his age (he was just 15) and had volunteered to go on an expedition with Scott to Antartica in 1901. He also took part in a dramatic expedition with Sir Ernest Shackleton. He rose to the rank of Warrant Officer during his 27 years in the British Navy, before returning home to Annascaul. He opened a pub there – the South Pole Inn – and lived in Annascaul, where he was known as Tom the Pole, until his death in 1938. His brother Cornelius, a sergeant in the Royal Irish Constabulary had been shot in Cork during the War of Independence.